Elizabeth Goudge once said that: "The very old and the very young have something in common that makes it right that they should be left alone together. Dawn and sunset see stars shining in a blue sky, but morning and midday and afternoon do not poor things."
In human life, grandparents are obviously more than special that all of our best memories in our lives are with them. Hanging out with grandparents or stories told are what make us thinking back about our childhoods so beautiful and unforgettable. Grandparents mean so much to children; their major roles when they are old pros at the job are taking care of kids' lives.
Obviously, grandparents deserve to be expressed love and gratefulness from their kids. Such amazing gifts should be chosen carefully because of everything grandparents have done to us over the years. Are you wondering which gifts are the best and most thoughtful to gift your grandpa and grandma? If you want to deliver the heartfelt goods in a still-high quality and find this difficult, we have prepared something for you through this collection of best gifts for grandpa and grandma. We promise to surprise your grandpa and grandma with unexpected and worthy gifts and make them smile.
1, "Grandma Has Wings" Book
A book to read with kids before bedtime for your grandparents to remind them of the memories you have with them.
This book's title is "Grandma Has Wings". This funny story tells about the adventure of six little girls discover an amazing secret: Grandma's soft, squishy arms are wings! The beautifully illustrated story will keep people guessing, giggling, and wondering things such as: "Can Grandma fly?" "Does Grandpa know?"
This is also an inspirational way to encourage your grandparents that they are still so great in everything. A simple great way to make your grandparents smile.
Buy it now
---
2, Magnetic Lockets Pendant Necklace
A new necklace added to your grandma's jewel collection, she will be happy that she thinks she is still young to receive those such things.
This necklace features a tree of life, which has four gemstones on the bottom. The color of 4 gemstones is decided up to your choice. The design of clear glass double-sided face locket will add charms to your grandma
With the technology of Environmental protection plating, the necklace is made to be tasteless, nonallergic, and especially never fade out.
The necklace comes and a bead chain, a backplate, and 12 birthstones. There is also a floating living memory locket pendant
Buy it now
---
3, "If Grandpa Can't Fix It No One Can" T-Shirt
This can be the best common gift idea for your grandpa when celebrating his birthday or Father's Day – T-Shirt
This is a T-Shirt, which has the line: "if grandpa can't fix it no one can". If you want to praise your grandpa about great things he had ever done in this whole life, this T-Shirt is the simplest but most effective choice.
The T-shirt has outstanding fabric quality, which is suitable for elders. The color black is also the elders' usual wearing style.
Buy it now
---
4, Kindle
If your grandparents have retired, they may need something better for their eyes in case they don't wear glasses. And a modern device to read books like Kindle may help them a lot.
Now your grandparents can read books more conveniently as all books are in one device. Therefore, your grandparents don't have to store piles of books, which may take place a lot in their house. Now you don't have to worry about your parents forgot to bring many books when traveling.
The screen set is made for the elders too! There is built-in adjustable light – read day and night and no screen glare, even in bright sunlight.
If you want to find more gifts for retired people, you can look at this article: Best Gifts For Book Lovers 2017
Buy it now
---
5, Eco Tea Tumbler, Travel Glass Water Bottle For Loose-leaf Tea, Teatox, Fruit & Detox
This makes your grandparents enjoy their drink better to help them live a healthy lifestyle.
This travel glass water bottle has an ideal size to carry and is not too heavy, easy to grip. When your grandparents have walks, yoga classes, With the Zen Tumbler, they don't need an extra sleeve. Thanks to the thick double-wall glass: hot drinks stay warm for long and cold drinks chilled for even longer.
The tea tumblers are certified and made from eco-friendly materials: "Borosilicate double-wall glass, BPA free, high-grade stainless steel 2 in 1 filter infuser, leak-proof silicone insulation, natural bamboo lid, no plastic, infusions in the purest form."
Buy it now
---
6, Yoga book: The Yoga Bible
It's time to suggest your grandparents a healthy hobby when they are retired, and yoga is a good idea. Then, you may need help from an instruction book first.
This book featuring over 150 yogic postures from the main schools of yoga. In here you can find comprehensive illustrated step-by-step guide in each posture. There are postures for beginners to experienced yoga practitioners. Besides, you can note on various types of yoga as well as summaries of well-known traditional schools of yoga. There are breathing techniques and the benefits of yoga in healing, pregnancy, de-stressing, and meditation mentioned in the book too.
If you want more information about yoga lovers gift idea, come to this article: 10 Best Gifts For Yoga Lovers
Buy it now
---
7, Running Belt
Besides yoga, your grandpa and grandma may spend time go walking a lot. This running belt is a modern device you should introduce as a new grandpa and grandma gift idea.
This belt is for running with hands-free but still be able to keep necessities safe and comfortable! Personal things such as iPhone 6, 7 plus… are all put in a special-shaped waterproof zipper! The belt is large enough for any kind of stuff and they won't fall out. Two expandable pockets allow changing the music. The neoprene and material prevent bouncing and scratches. It helps your grandparents safer at night thanks to the 3 reflective darts.
If your grandparents are running lovers, you can find more suitable information at this article: Best Gifts For Runners In 2017
Buy it now
---
8, Hexagon Wall Terrariums Vase Wall Decorate
Have you ever considered some lovely grandparents gift ideas for art wall gardening decorations and to renew you, grandparents, home? Here we have these beautiful designed hexagon wall terrariums vases offering for you.
These wall planters are designed in mixed shape. One distinguishing feature is its handmade with clear and light high boron silicon glass. It can be wall mounted with plastic hanger applied to wall planter vase. The most interesting thing is that it will get beautiful and great for rooting plants in water!
There are three shapes: wall bubble bowl, cone wall hanger planters, oval glass wall vase.
In case your grandparents are really into gardening, you can check out this article: 10 Best Gifts For Gardeners 2017
Buy it now
---
9, Multi-Pack Picture Frame Value Set
After all the memories you have got together with your grandparents, there should be something to keep the memories forever. This frameset is what you are finding.
The frame is designed in Solid Pine Wood Material in the black finish. All frames have easels for tabletop display. The pre-attached triangle hangers are for vertical or horizontal wall hanging.
You can put portraits of your grandparents and you. There is three sizes in one set: four 5×7, four 4×6, and two 8×10 frames.
Buy it now
---
10, Thumb Ring Book Holder Bookmark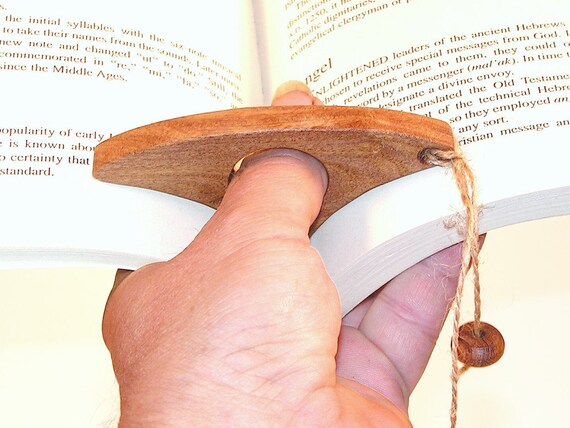 Above we have suggested you a kindle for modern way reading books. But in case your grandpa and grandma still have jammed in reading paper books, you may find this grandpa and grandma gift idea useful.
This thumb ring book holder keeps pages from turning in. This handy book holder is perfect when you are outdoors where the wind blows the pages or when you're reading in bed, held securely by your thumb.
You can use this as-is a bookmark or bible mark thanks to the natural jute cord made from hand-milled Mesquite wood. The final shape is hand cut and sanded smooth.
Buy it now
---
Try to appreciate your grandparents for everything, every moment you still have with them. Our collection of grandparents gift ideas were given have tried our best to help you. If you have been able to find your favorite or you have something to ask us, feel free to leave a comment.